PRESS RELEASES, INVITATIONS AND NEWS
"Sweet memories traditional flavours from Galanta to Mándok"
 
Program
Édes ízek Mándok kerti fogadójában
15:00 - 15:15 Registration
15:15 - 15:25 Welcome by István Szabó, president of the association
15:25 - 15:35 Welcome by Dr. Miklós Sesták, Commissioner
15:35 - 15:45 Welcome by Dr. Attila Tilki, Member of Parliament
15:45 - 15:55 Secretary of State Zsigmond Perényi
15:55 - 16:05 Sanctification of the building
16:05 - 16:35 Performance by the Transcarpathian Drooling Band
16:35 - 17:30 Standing reception
The project is funded by the European Union and co-financed by the European Regional Development Fund.
www.skhu.eu
http://kertifogado.forgachkastely.hu/oldal/kertfogado
THE PROJECT
Project title: Sweet memories, traditional flavors from Galanta to Mándok
Project ID: SKHU / 1601 / 1.1 / 202
Program name: Interreg V-A Slovakia-Hungary Cooperation Program
Lead Beneficiary: Association for the Removal of Monuments in Mándok Village
Beneficiary: Občianskeho združenia Neogotický kaštieľ v Galante
Duration of the project: 01.12.2017 - 09.09.2019.
Total cost of the project: EUR 1,312,987,00
Of this, the total cost of the Hungarian part of the project is EUR 839,227,00
Slovakian total cost of the project: EUR 473,760,00
EU subsidy: EUR 1,116,038.95
Domestic support: EUR 131,298.70
Of which in Hungary: 83,922.70 EUR
Slovak: EUR 47.376,00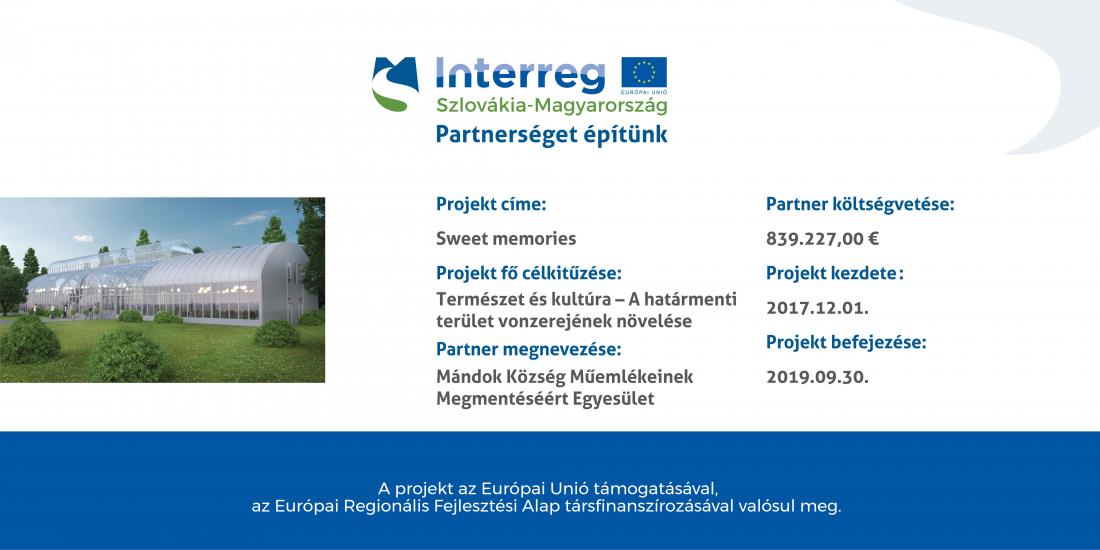 Project summary:
The aim of our project is to reconstruct and thematically introduce the rich culinary-confectionery culture from the Esterházy Castle (Galanta) to the Forgách Castle (Mándok), which is part of the intangible heritage. During the Monarchy, French confectionery in baronial castles later appeared in peasants' kitchen too. Consequently, a growing number of traders started selling gingerbread, sweets and wafers in trade fairs in Upper Hungary, and especially in towns along commercial routes in the 18th century, so as to give space to famous confectioners, who no longer travelled with their merchandise, but offered them at location. The flamboyant appearance of the Monarchy affected the interior of even the smallest confectionery on the target site of the project.
The significant change in the history of confectionery can be seen both in the cookbooks of noble courts and in the pastry recipes of country nuptials. It is possible to demonstrate the phenomenon from the perspective of raw material usage, appliances, interior design, and the related – mainly festive, nuptial – customs.
Under the project, we will discover the relics of cultural heritage, then after procession, we will make an exciting display of the collection. On some stops of the culinary road, we will introduce ourselves with a travelling exhibition in trade fairs and festivals of the most significant stops, with a mobile display and demonstration area (a mobile confectionery with characteristic interior and authentic offer). The jointly established tourist attraction will be demonstrated in tourist reception areas established on the two endpoints of the route, in the Esterházy Castle (with renovation) and in the Forgách Castle (with a new building), where culinary-touristic services will be offered: related events (cooking competitions, thematic workshops), touristic programmes (interactive group displays, events) and publications (recipe collection, description of the route in 5 languages).